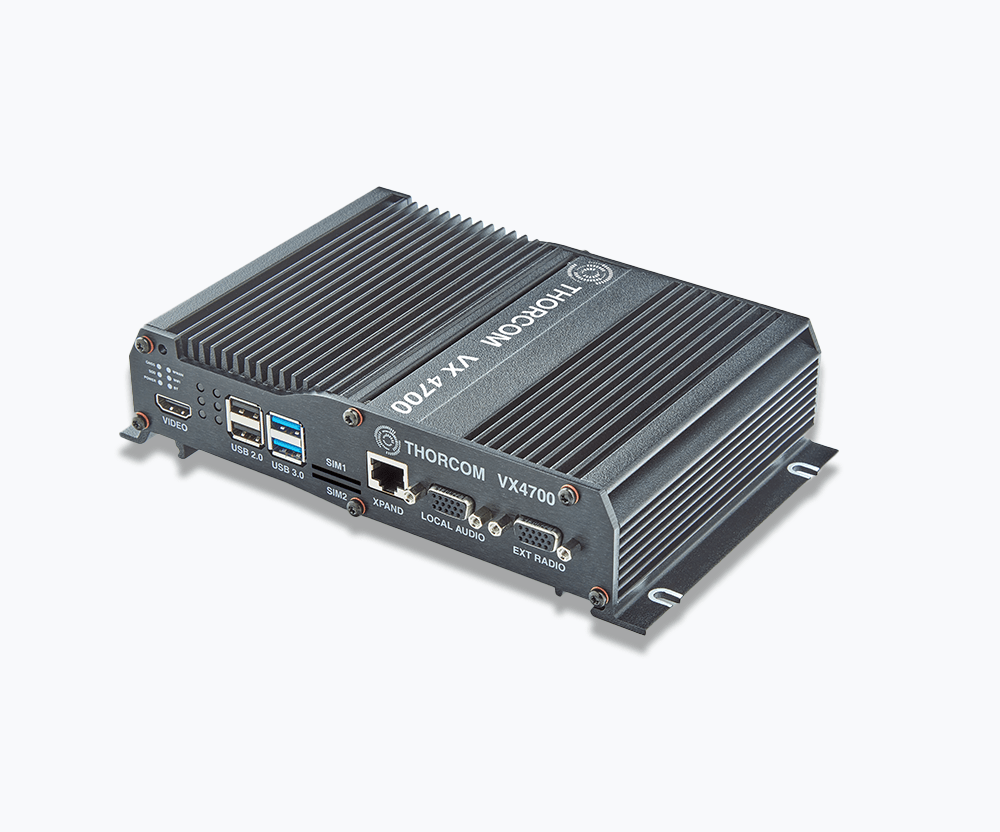 VX4700 Vehicle Device
Vehicle Device and MCX Platform for Mission Critical Users
Thorcom® VX4700 is a high performance Fixed Vehicle Device platform that provides next generation voice and data communications for Mission Critical Users including the Emergency Services and other mission-critical users on the UK Emergency Services Network (ESN).
VX4700 supports voice and data on prioritised bearers (such as ESN in the UK), including Mission-Critical PTT and data via the public Internet, or User Organisation private APNs.
VX4700 is designed to meet the harsh conditions found in the mobile environment and is suitable for standard and covert installation in a wide range of vehicles including passenger cars, rapid response vehicles, ambulances, fire appliances, commercial vehicles, motorbikes and marine vessels, and is compatible with a wide range of industry standard of optional components and accessories.
VX4700 takes the place of a 'traditional' radio unit and contains a high performance processor, memory, 4G/LTE cellular radio module, Wi-Fi radio module and interfaces to provide a wide range of voice and data services at multiple levels of priority. VX4700 interfaces include managed power, multiple antennas, microphones, speaker, D2D radio, CANbus, USB, Ethernet LAN and GPIO. The unit is usually installed in a location such as under a seat, in the boot, on a 'comms board' or in a comms cabinet.
VX4700 provides a Graphical User Interface via a standard HDMI video output/USB touch input which is compatible with any in-vehicle HDMI-compatible touchscreen device, including rugged vehicle touchscreen monitors in variable sizes, and vehicle OEM screens via a hardware HDMI switch.
VX4700 can also be supplied with a standard 'radio console' and/or other physical controls for power on/off, volume up/down, programmable keys for application short-cuts and a dedicated Emergency key. The keys are backlit, tactile and designed to be used while wearing gloves.
Key Features
Modular and flexible solution
3GPP MCX compatible
4G/5G/LTE radio with +23dBm transmit power
Wi-Fi for Access Point ("hotspot")
5 x Ethernet ports for wired devices
Compatible with vehicle OEM screens (via a switch)
High performance GNSS receiver
USB2/3 expansion ports
RS232 serial port for legacy devices
SATA M.2 SSID bulk storage
SD card internal storage
Wide range of audio accessories
Device-to-Device (D2D) radio interface
GPIO for vehicle telemetry
CANbus and K-Line for vehicle telematics
Linux Operating System
External antenna connectors (SMA)
12V/24V vehicle power (9-36V operation)
Integral 'brown out' power protection
Low power consumption in standby
Compliant with UK Reg 109/110 anti-driver distraction legislation
Applications
Fixed installation in passenger vehicles, commercial vehicles, ambulances, fire appliances, motorcycles, marine vessels, etc
Multiple User Interface support for use with multi-compartment vehicles
Compatible with Fire appliance accessories including pump bay voice terminals and Motorcycle accessories including helmet audio
Marine variant with IP67 waterproof display
Software
Technical Specifications
iMX8 Quad-core ARM® Cortex™ A53 @ 1.5GHz
4Gb LPDDR4 RAM
64Gb eMMC FLASH memory
Secure Digital (SD) card slot
FDD Bands B1, B2, B3, B4, B5, B7, B8, B9, B13, B14, B17, B18, B19, B20, B25, B26, B28, B29, B30, B32, B66
TDD Bands B38, B39, B40, B41
Class 3 device with +23dBm ±2dB transmit power
3GPP Release 12 with Emergency Services QCIs
Dual antenna 1T2R diversity (2 x SMA sockets)
Dedicated radio console connector
Local Audio Interface (DB15HD)
Device-to-Device D2D interface (DB15HD)
Loudspeaker output 10W into 4Ω
2 x USB 2.0 Host ports, 2 x USB3.1 Host ports
RS232 serial port (RJ45 connector)
2 x CANbus 2.0A/B with active termination
ISO 9141 KWP2000/K-Line
8 x General Purpose Inputs
4 x General Purpose Outputs
Power
Supply: 9-36V DC negative earth
Consumption: 5-25 Watts (depending on options)
Internal 11.1V 2600mA/H LiPo battery pack
Connectivity
4G/LTE M.2 module with Cat 12 (600Mbps DL; 150Mbps UL), plug upgradable to 5G/LTE M.2
Wi-Fi with 802.11a/b/g/n/ac in 2.4GHz/5GHz bands with 2×2 MIMO (2 x SMA sockets)
CANbus for vehicle telematics
Gigabit Ethernet LAN port (RJ45 socket)
Bluetooth V4.2 (Combined with Wi-Fi)
HDMI connector
Security
Secure Boot
Trusted Execution Environment
Encrypted file system
Secure key storage and tamper detection
Enclosure
Rugged alloy extrusion
Size 190mm (W) x 130mm (D) x 40mm (H)
Weight 1.2kg
Environmental
Dust and water protection according to IEC529: IP54
Vibration and humidity to ETS 300.019-2-5
Operating Temperature: -20 to +60C
Storage Temperature: -30 to +80C
Approvals
UKCA mark (EMC)
UN ECE Regulation 10 'E' mark vehicle approval
Accreditation for UK ESN (to be specified by UK Home Office)